Vintage FF VIR – September 2008
Well finally, I got to take my new OLD toy out in anger. I took delivery of my '69 Crossle FF last June at the Gold Cup at VIR. I bought the FF to test the vintage racing alternative. It had a fuel cell leak and I didn't get to race it. Now many weeks later, I have a new $1800 fuel cell and am anxious to fire up my well-aged warrior. The car has been back together for a while, but I decided to wait for the fall race at VIR since towing for many hours with an untested car just didn't seem intelligent.

Weather did not cooperate. A Nor'Easter/tropical storm had the mid Atlantic in its clutches. Big wind and wet. I strongly considered staying home. Did not. I hoped that the 3-day SVRA weekend would deliver a couple of useful sessions.

Kathy and I drove the 200 miles to VIR on Thursday. My new Sequoia tow vehicle was great. The weather stayed a few hours behind us. It was Kathy's birthday. We dumped the trailer at the track, quickly did the technical inspection (no hassle) and went off to South Boston for a nice dinner. Kathy has endured many birthdays at the track since a lot of the Runoffs at Mid Ohio happened in late September. She is a trooper.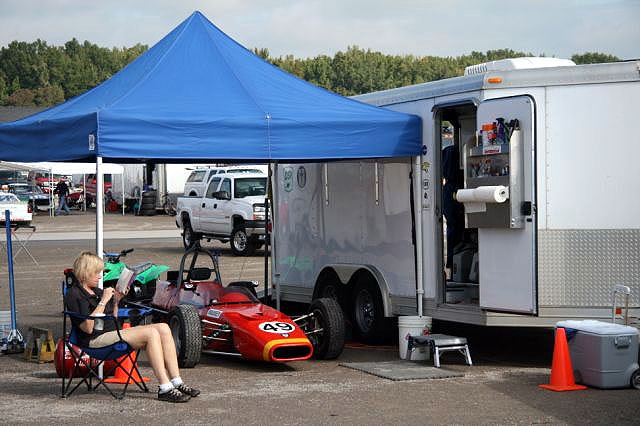 Friday would offer two practice sessions. It was WET and WINDY. I blew off the morning opportunity and only 4 cars went out in the formula car group. There were over 25 cars on the entry list, including 17 vintage FF's. Frank Malone arrived mid morning to assist. We watched it rain for a long while. Not much visiting around since people were in hiding and their cars safely, warmly and dryly staying in their boxes. I visited with Rollin Butler, who was one of the four crazies. He had done the unofficial practice day on Thursday in his Crossle 35 CF. He said he had incurred the wrath of the steward by not reporting to the black flag station after having a four wheel off the pavement spin. (That's the rule, WHO knew?) His indiscretion occurred mid-way down the front straight after hitting a small stream. Hummmmm.

Mid-afternoon had less rain and we took the Crossle out of the trailer. Going out was still very iffy, but we got the car ready. Adding gas was pretty much the preparation, since these cars run a spec threaded Dunlop tire. (No rain tires, just hard skins!) Although it was still drizzling off and on, there were dry spots on the racing line. I decided to venture out. It was gonna be a steep learning curve (compared with my DSR): new shift pattern, unknown car, little horsepower, hard, skinny tires, wetness, plus needing to be on my best behavior so as not to annoy the vintage racing people. Am I out of my mind?

Ten to twelve cars went out for the afternoon practice session. I immediately hated the effort required to activate the clutch. Beartrap. I next hated the way the car shifted. Finding gears was a crapshoot. I missed many. Very distracting. I also didn't like the feel of the throttle since I couldn't feel full throttle, but compared with the other problems, it was less intrusive. What was most noticeable about FF was the absence of acceleration. What a slug. On lap 5, I came upon another car as I entered the top of the "roller coaster" as he puked his engine oil. I immediately slid off in his oil. I continued on, but began seeing the black flags in a few corners. I came in and went to the black flag station. They said never mind my reporting, as they had black-flagged everybody since the oil spill was huge and many had gone off.

Rains continued all afternoon, and I changed to dry socks three times. Frank and I added graphic lube to all joints of the shift linkage. A more useful test session would have to wait until Saturday.

Saturday morning was heavy with moisture and light occasional showers. There was no sun or wind. The track stayed totally wet until 11 AM. There was maybe a 60 percent dry line by my session and the paddock was still totally wet. My shifter was much improved. Since there was nothing we could do about the clutch effort at the track, now the throttle linkage became the dominant annoyance. Most racers still stayed away from the session. I improved my lap time by 4 or so seconds. It was still horribly slow. Paul Fournier, the son of a tennis buddy, stopped by. He knows tires, and pointed out the manufacturing date code. My tires were made in early 2005. They were way past their prime. Time to spend some money. Cecil Boyd, the guy I bought the car from, said the tires are done when they no longer "chirp" under cornering. I only got a faint chirp in Hog Pen, nowhere else.

The track was mostly dry by the later afternoon "qualifying race." I was gridded 6th in FF and 16th overall. The first lap was eventful and several cars got together in turn one. From my seat, I saw a car launched into the air and flying fiberglass. Surprisingly, all cars continued. I passed many who were extracting themselves from the Shamozzle. They would repass in time, at least most of them. Race was by and large uneventful. Near the end of the race my vintage racing education got another installment. As I neared the starters stand, the guy was leaning out holding a black board. Was I being black-flagged? Had I done something wrong? As I got close enough to read the board, it didn't show my number but two letters: "L L". Was I leaking liquids? I slowed and watched my mirrors for signs of smoke. Nothing. I continued on at reduced speed, somewhat, to get the checkered flag the next time by. Ah, "L L" means Last Lap. Who knew? My motor seemed a little lacking in grunt. Finished 6th in FF.

We then spent some time of the throttle linkage. Added a travel stop and much lubrication. Frank went home and Kathy and I headed off for a relatively early dinner (choosing to pass of the SVRA dinner at the museum) so that I could see the VT v. Nebraska game on TV. I will check out the SVRA social scene at another race. I hear that it is pretty nice. It is the "wine and cheese" crowd. It rained heavily as we left the track.

My race on Sunday was right after lunch. Since the morning warmup session would be wet, and since F1 was on SpeedTV, we stayed at the motel in the morning (except for Kathy's trip to Starbucks). Nice and civilized. By race time the sun was showing its face in places. (Later racers were not so lucky) The race itself offered some drama for me. The start and first laps were clean. I was trailing by maybe 50 yards a group of 3 FFs for several laps. On lap 5 while turning in at the left turn at the top of the uphill esses, I spun. Not sure why, but video suggests that maybe my turn in was too abrupt. I lost contact with the 3 guys I was chasing. My next several corners were sloppy as I wondered if they would black-flag me.

Oh, did I mention that my mirrors are virtually useless (bad location, screwed to the Plexiglas windshield)? Someone passed me going into turn one. I never saw him coming. That got me motivated. I was on his tail in the uphill esses and was surprised and almost lost it when he braked mid-esses. It took me a few corners to catch back up. As we crossed the start line, they showed that last lapboard. I didn't get him in turn one. I did cleanly get beside him in Oak Tree, but he cut down on me (maybe his mirrors and peripheral vision don't work) forcing me off inside. I overtook him entering the roller coaster and put a pretty good gap on him by the checker. That was fun.

My lap times were not impressive and were perhaps disappointing. My best lap of 2:20 was about 6 seconds off the leading FFs. The good news if that my times improved 2 to 3 seconds every session over the weekend. (Also, the time is more than 20 seconds slower than my DSR time.)

So what do you think? My DSR, although obsolete and no longer competitive, is a lot more fun to drive. Driver needs more seat time. Car needs work. New tires. Perhaps shocks, and maybe some more ponies. Lack of acceleration is a negative. So is the tractor-like exhaust note. I really cannot evaluate handling until I try new tires. The shift throws are long and unfamiliar. Clutch effort is plain awful. SVRA is very no hassle, not like SCCA. Track time is good with 3 practice/qualifying sessions and two races. In short, the jury is still out, but vintage racing, perhaps not with a FF, could be a winner.