OZ
October 2008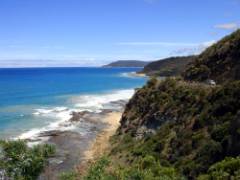 Kathy was having one of those milestone birthdays and wanted to treat herself/us to a special "holiday" as they say in Australia. A trek half way around the world would certainly qualify as a special trip. I would reluctantly be going along for the ride.
Transit time via Dallas, Los Angeles, to Sydney would be 26 (!!!) hours. My attention span is about 2 hours, so I was very apprehensive to say the least. We would be flying "steerage" class since a business class ticket costs $13,000 more. To placate me, a couple of side trips to racetracks in OZ were planned.
Armed with a good book (Racing in the Rain) and a satchel full of snacks, we headed out for two weeks of adventure. I finished my book by Los Angeles. The leg to Sydney was 15 hours and I watched 3 movies, napped, and walked the isles of the jumbo jet. I somehow survived, although my ankles swelled up to grapefruit size.
Sydney greeted us with wind, rain and cold. Our third day was the coldest in 35 years. My selection of wardrobe was based upon the anticipation of warm spring weather. My shorts and short sleeves would never leave my suitcase. Thank God, I bought along one pair of corduroy pants.
OZ is a continent the size of the US and with a sparse population of about 20 million. Sydney, at 4.3 million, is the biggest city. We spent 4 or 5 days there. First impressions were many:
At least in the city, the population was 30 to 40% Asian.

Who knew?

A large Chinese influx happened in the late 1800's during the gold rush days.

Now OZ is a destination for refugees and visitors from Viet Nam, China, and others.
Although transportation included a limited subway/train system, getting around was largely by bus.

There were thousands of them.
It was a city of old facades.

Likely mandated, the old 1800 building facades were saved (at least 10 or so feet deep) and the new 50 story skyscrapers were added.

Seems that every square foot (meters?) of ground space was populated by large buildings and shopping courtyards.

There must be 10,000 small shops.

As we had read, everyone wears black clothes.

OZ citizens avoid color.

Fully 90% of their vehicles were white or light silver.

I saw no tuner cars.
Speaking of color, there were virtually no people of color to be seen.

There are no local channels on TV.

There are 3 or 4 national channels plus a couple FOX shorts channels.

All commentators were white.
TV programs were mostly from the US.

News about the US was very prominent.

The pending US presidential election got extensive coverage.

Who here can even name the OZ prime minister?
Wireless technology is in it infancy.

Unlike here, you see very few people walking around with a cell phone in their ear.

Saw no blue tooth. There are actually lots of phone booths around.
Food service is different.

You go the bar and order your food and drink and pay.

You get a number paddle and food is brought to your table.

There is generally no tipping.

Tax is included in all prices.

There are wage controls and food service workers are nicely paid (heard $20 per hour).

Thus no need for tipping. Also, thus food is expensive.

(Bring money).
Lots of Crucks.

Saw only one F150 (at a race track).

Vehicle of choice for service and leisure is a Car/Truck.

Two door or four door cars with pickup beds. Many have V8 engines.

The call them Utes.

Cars are mostly mid-sized imports.

Lots of Ford of AU Falcons.
There was an abundance of American fast food places.

Seemingly a MacDonald's on every block, plus lots of Burger Kings, Kentucky Fried, Krispy Cream Donuts and Starbucks.
Oz is not known for a unique cuisine.

We ate at Pubs and Thai restaurants mostly.

There was a Starbucks adjacent to our hotel and we visited often, usually for breakfast.

It was always crowded.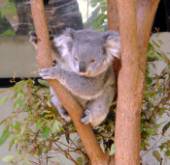 In Sydney we did lots of walking about. We have an aversion to riding buses. I got a very sore foot the first day that haunted me for the entire trip. I even bought new shoes hoping it would help. During our stay, Kathy shopped, I limped, we visited the zoo, we took in a Broadway show, plus a concert of Duke Ellington at the Sidney opera house on the very touristy harbor area.
Stay in Sydney over, we picked up our rental car (Hyundai) and headed out. A piece of advice here: Get an Avis/Hertz car. The Europcar company had draconian rules and fees. If one did not take their $24 per day "insurance", they would put a hold of $2750 on your credit card for possible damages. There was a customer at the counter complaining loudly about a $600 charge for a scratched wheel cover.
We went off in search of a couple of racetracks taking the toll road. Mistake. Strange situation here. There are NO tollbooths on the road. Either you have a "pass" strip or you had to call within a couple of days to pay by credit card. Paying included "joining" with a $3.50 monthly fee for 4 months. Each city had their own separate toll system. We avoided the toll ways thereafter.
Civilization is closely packed around the coastal cities. Drive to the tracks was fairly short. We first visited Eastern Creek. It looked likely a fairly old facility but had an extensive infrastructure of garages, etc. There was a motorcycle track day happening on the main circuit and a car solo event on the skid pad. The solo event was entertaining since they were flooding the surface with water. Lots of out of control cars. Most of the cars were of the IT type. There were almost no closed trailers in either paddock. Not out of the Sydney suburbs, we drove next to Wakefield Park. They were having a track day. Most of the cars were modest. One guy in a Nissan 350 would spin nearly twice a lap.
Towns along the way were small and didn't appear at all prosperous. Houses were small and close together. We looked for McMansions in the outlying areas, but didn't find them. Roofs were generally made of tin with a few of tiles. There were no composite shingles. One remarkable thing about these towns were the huge, modern sports complexes each had. There always had large crowds.
We headed off to visit Canberra next. Canberra is the capital of OZ and is a planned city of more recent vintage. It is in the middle of nowhere, and is by and large featureless. The capital building is in the center of a big circle and is built underground mostly. All you can see is a big berm. We stayed the night there and ate at a very good restaurant and the customer watching was excellent. We were greeted the next morning to a flat tire on our car. An ex-American physics teacher helped change it. The rental car company wanted $65 to come and change it. I assured Kathy there was little risk to driving without a spare.
Somewhere along our way as a bit of an experiment, we stayed at a very inexpensive F1 Motel, the bottom end of the Thistle chain offering. Interesting. Each room is obviously a prefabricated unit about the size of a container cargo box. I told Kathy that although it was very small, it was bigger than a several hundred thousand dollar RV. Maybe.
With not much of interest in Canberra, we headed off to the Melbourne area, several hundred miles south. While I have driven on the "wrong" side of the road a couple of times in England without major excitement (except perhaps for those endless roundabouts), my Aussie car provided a new challenge. Every time I went to signal a lane change, I depressed the stalk only to find that I had activated the windshield washer. Apparently these are reversed down under. I don't think they are that way in England. Anyway, I must have done this a hundred times. Even Kathy, who was making fun of me, did it also when she drove. Once you get away from the city there is NOTHING. I drove for hours without seeing a person or house. Just cows and sheep and a monotonous landscape of grey/brown and few trees. Image what the real outback must look like. We didn't go there. These people really need their Bush Bars on their vehicles, as road kill (roos and wombats) was frequent.
Away from the city, the bugs are unbelievable. Kathy took bug repellant but it wasn't up to these dudes. Hint, take industrial strength bug spray.
Our next stop was wine country. Small mountains and miles of endless twisty roads. Kathy said she was glad I didn't have a better car to drive faster as she almost loosing her lunch. We visited a few wineries and sampled their stock. Kathy thought the OZ wines were too sweet for her liking.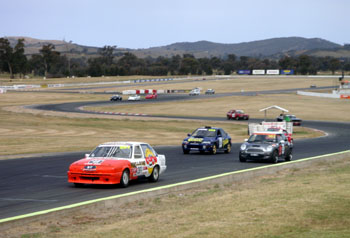 We made our way inward, to Winton Raceway about 2 hours North of Melbourne. Track was situated on a hillside so that one could view most of the track. It looked like a scaled up version of Brands Hatch. There were nice, but somewhat old facilities. They were having a 6-hour relay race. Lots of cars on track. Most were IT like cars or even vintage. Saw lots of Alfa sport sedans of 70's vintage. There was one Lotus 23 and one Cobra replica. I begged/bought track stickers at each of the tracks. The stickers will be added to my trailer. I watched the race for a while and walked around the pits. We then headed south around Melbourne to Phillip Island were a major racetrack was located. It had recently held a MotorGP race there and is scheduled to become the next Australian F1 venue. Beautiful place, but no grandstands, yet. There was a Porsche Experience day going on. I visited the small museum and the gift shop.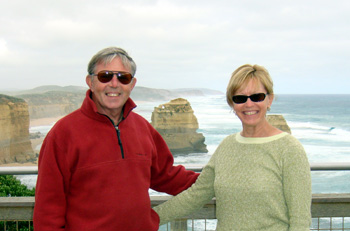 The next day we drove down to "The Great Ocean Road", an extended trek along the coast with spectator views and overlooks. I got my feet wet in the Southern Ocean. Kathy took lots of photos. We stayed at Port Campbell, a small resort town, at the end of the "Road". Kathy lost here Iphone there.
Next morning we drove towards Melbourne from the south. We happened upon Sandowne racetrack. It is a road course built around a major horse race track. Maserati trailer and cars were there for testing. Nice facilities, simple road course.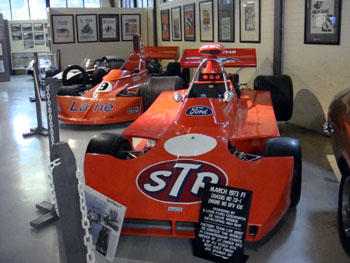 We continued into the city in rush hour traffic. We found our hotel and dropped off our luggage before driving to the airport to drop off the rental car. Our Ibis hotel was nicely located and convenient to the trams (streetcars) that we used to get around. We visited the old jail and explored places to eat. In my opinion, Melbourne is a nicer city than Sydney. Everything is compact and easy to get to. The weather was nicer and Kathy even wore shorts for a while one day. We went to a Broadway play (Wicked). On the second day, I went to Albert Part, the site of the Aussie F1 race. It's a park with the road in daily use except for the F1 street race. I walked the circuit which goes around a large man made lake. The bugs were terrible. Kathy went shopping.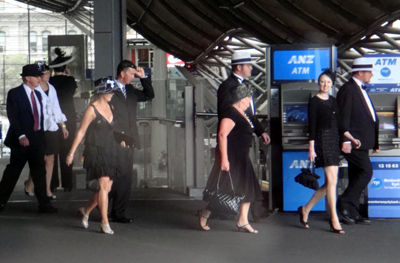 We were in Melbourne for the Melbourne Cup weekend. This is a HUGE deal. The Irish football team was in town for a big match. Thugs and rowdies were everywhere. The Cup ("the race the whole country stops for….") would be on Tuesday, but there were preliminary races on Saturday: The Derby. Race goers dress to extreme. Gentlemen in black suits and hats. Ah, the ladies. It was a site to behold. Flimsy dresses, torturous shoes and big expensive hats.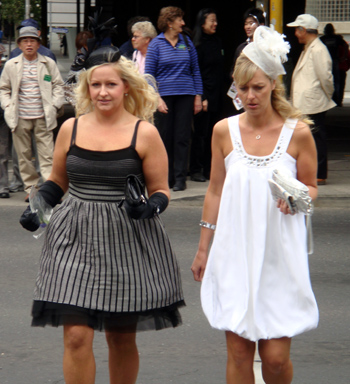 We sat at the Starbucks in the train station near our hotel as hundreds of race goers passed. Kathy discretely tried to take photos. We would see elements of this crowd later in the evening at dinner time, most of them well lubricated from the day's activities but continuing to party. Cup/Derby weekend also brought the motorcycle show to town. I went. Some cool knockoff stuff coming out of China.
Sunday brought the 28-hour transit time home. I was ready.