Not Deferential
Summit Point, May 09
<![if !supportEmptyParas]> <![endif]>
Bob Houston and Jens Scott (son of track owner, Bill) were instrumental in reviving the Jefferson 500 vintage race at Summit Point after a many year absence.  Part of the festivities was a Marlboro (MD) reunion.  Since I raced at Marlboro in the mid 60's, I would be attending with my '69 Crossle FF. 
<![if !supportEmptyParas]> <![endif]>
As an incentive for early registration, they gave a free test day on Thursday.  I convinced Sean to join me and drive my Crossle.  Since the weather forecast for the entire race meet was for rain, we didn't hurry up for the Thursday practice.  I arrived about noonish, and took my 4 year old stones over for new tires.  It took them 2 hours to get it done.  By then, Sean had arrived and would take the first track session.  With new shocks, I was hoping my new vintage toy would be more competitive than it first outing at VIR last September.  There were 10 FF's in my group, including the Mid-Atlantic fast guy, B. Bradpiece, in a Merlyn Mk 11.
<![if !supportEmptyParas]> <![endif]>
The practice grouping included the much faster wings and slicks (vintage FF run Dunlop treaded tires) formula cars and the S2000 and other fast sports racers.  Sean went out for a lap and came in to get the mirrors adjusted.  Track was dry on line.  After another 4 or so laps he came into the pits with the nose dinged a little.  A FA driver had made a bonehead pass attempt on the outside at the turn in point for the chute.  Running out of room and with two wheels in the grass, he hit Sean's left rear tire, spun, came around and clipped the nose and crashed into the tire wall, rolling his nice expensive FA.  Geez!
<![if !supportEmptyParas]> <![endif]>
Sean and I set about making emergency fiberglass repairs.  We put the nose in the trailer with the heater on to facilitate the drying of the epoxy.  Our practice day was over.  Sean said the car handled nicely, but the braking was less than desirable and the car was unstable under braking in turn one.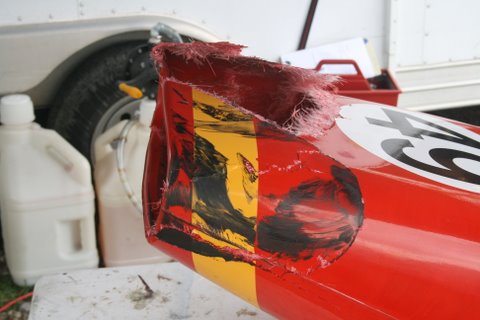 Before and after repairs.
<![if !supportEmptyParas]> <![endif]>
Friday offered two qualifying sessions for me.  Sean declined to drive any more.  The first session had puddles in places but was moderately dry.  I had a pretty good session turning a 1:27, second fastest FF (but some guys chose not to go out.).  After 10 laps, it started to rain and I came in.  Braking was unsettling, and whenever I put in the clutch to upshift, particularly at start-finish, the car would step out a bit.  After a few laps, I stopped using the clutch and it was better, not totally solved.  Another problem I had was when hard braking my driver's shoe would catch under the accelerator pedal and I had to struggle to get back on the gas.  (We solved this problem by raising the brake pedal, but some width of the accelerator petal needs to be cut off.) 
<![if !supportEmptyParas]> <![endif]>
After the session, David Fromer, came over and said "You young hot shoes need to be less aggressive."  He said by passing him and another car in turn 7, I had scared him.  He said I should have waited until the straight to pass.  These guys were turning laps 8 seconds slower than me.  I told him I was nearly 68 years old and was not "young".  He probably thought Sean was driving.  Video HERE.
<![if !supportEmptyParas]> <![endif]>
The afternoon session was wetter and the 5 FB cars were on rain tires and going driving through all the puddles to keep their tires cooled.  It was slippery.  No one got a better time and got a 1:32.  We discovered that my left rear wheel had a lot of "play" in it, and was likely the cause of the braking and stability problems.
<![if !supportEmptyParas]> <![endif]>
We got visited by the VRG officials, who were investigating Sean's contact.  They said the FA driver was a safe driver and had several FA cars and a F1 car (and a tractor trailer hauler).  They said that Sean should have been watching his mirrors more and gave him a 3-month probation.  Sean explained that even watching his mirrors full time, he would have still been hit.  He did nothing wrong.  They were essentially penalizing Sean since the FA guys is one of the "big cheeses" of VRG racing.  Sean went home and said he was pissed all the way home.  Larry Kropp stopped by and we tried to tighten the rear wheel without success.  Larry said it was likely I had a bearing going bad.
<![if !supportEmptyParas]> <![endif]>
Saturday race day began with considerable rain with big rooster tails on the front straight.  Bob O'Connor came by to assist me.  We put the shocks and sway bars on full SOFT, Rain stopped about 15 minutes before my race went off.  Track got semi-dry quickly.  My full soft setup went too far, but I pressed on taking an easy 3rd in FF and was lapping cars by the end of the race.  It took me several laps to get turn 10 right.  You have to stay well wide of the apex (and off the paint 2 feet or so inside the apex curbing) or the car would twitch.  Got lapped by a few of the FB cars on the last lap.
<![if !supportEmptyParas]> <![endif]>
Saturday afternoon, Joe Blacker came by to yell at me.   He is one of the "big cheeses" with his multiple FB Brabhams and $700k hauler.  He said he had been an instructor for 16 years, and I was not taking the proper race line.  I coolly asked where. (I am not even sure he came up lap me, since he spun a couple of times.)  He said I should be hugging the inside going into turn 5.  I pointed out that since it was a rain race, I was taking the rain line.  Then he said that I was "all over the place" on practice day.  AH HA!  He was there in behalf of the bonehead FA driver.  I didn't even bother to tell him that it was Sean driving and that he has over 10,000 laps at Summit and knows his way around. Continuing my cool, I thanked him for his input and disappeared into my trailer.  Now I was fully pissed. 
<![if !supportEmptyParas]> <![endif]>
Sunday it rained a lot.  Forecast was for 2 inches.  Given my wheel problem and general annoyed attitude, I packed up and left before the race.  It was the first time in 40+ years of racing that I left before my race. 
<![if !supportEmptyParas]> <![endif]>
I stewed all the way home knowing that the Maisey name is likely forever tarnished by the "big cheeses" and thinking that vintage racing may not be for me.
--------------
<![if !supportEmptyParas]> <![endif]>
Post Script:  The splines on the LEFT rear half shaft are badly worn, causing the wheel play.  Good news is that the guy at Continental Motorsports can get me a new one from the Crossle factory in a couple of weeks.  Bad news is that it is the most expensive suspension part on the car.  
Post Post Script: While walking around my garage several days later, I bumped into the right rear wheel and was SHOCKED to find it VERY loose. The stub axle has sheered off behind the nut. The only thing holding the wheel on is the brake caliper and rotor. WOW.