New Beginnings
May 2003
Sean and I went to the inaugural North American Championship Series race at Beaverun, PA. With Regions across the east treating National racers more and more like unwanted stepchildren, we are hoping the new series can provide an alternative racing opportunity. We want to support the series after working to get them to include our DSR cars.
The Track. Beaverun is a new motorsports "complex" about a half and hour north of Pittsburgh. The road course is a work in process with only the "North Track" complete. There is a lot of mud and gravel about. The karting circuit is complete and is said to be "world class." All the nicely paved pit space is adjacent to it. With hundreds of karters there for the weekend, the space was well used. Facilities are meager, with only one rest room in a manufactured building. I couldn't believe there was not a single port-a-potty in place for the weekend. There were even several hundred spectators. The timing tower for the road course was a unique structure. It was a modified house trailer attached to the top of a former freight cargo container. Similar structures can be found throughout rural PA and are commonly called Pennsylvania Penthouses.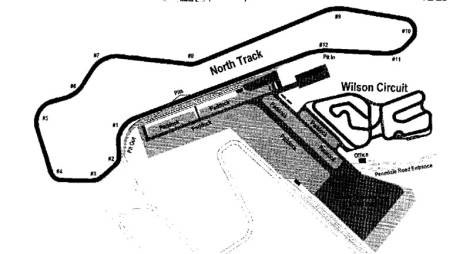 The course at 1.6 miles, keeps the driver very busy. There are two long straights, but each has kinks that prevent the driver from relaxing and add to the excitement of trying to pass. My top speed was about 132 mph. Turn one is followed by a series of 6 low speed slalom corners ending with a TOTALLY blind downhill right-hander to the back straight. Never did find a turn-in mark. The back straight ended in an essentially very tight hairpin. (It doesn't look that tight on the track map, but it drives VERY tight.) Brakes got overheated after about 10 laps and pumping them became part of the driving rhythm. There is nice smooth curbing and the track surface is currently quite abrasive. The course is basically a long somewhat mangled paper clip. Track management was a bit cranky, and they wouldn't let us walk the track Friday night.
The Event. It was well run. The SCCA Pro staff was there about 6 to 8 strong with the Pro racing tractor-trailer. Registration took about 30 seconds, and they came around to your pits to do Tech. There were no forms to fill out or logbooks to be presented. Zero hassle. Nice. All the Pro staff came by to visit and solicit suggestions and feedback. An excellent opportunity to be heard. There were also a couple of BoD members in attendance and they too were seeking input. The race schedule was a nice feature. All sessions were at specified times. The days went more or less like clockwork. At the end of the races, the podium finishers were brought to the winner's circle where awards were IMMEDIATELY handed out. There were interviews, pictures taken, trophies (plus hats, checkered flags) presented, and bubbly passed out. No waiting. Nice. Results were available at the Pro trailer without delay.
With the inaugural race under subscribed; they combined the SR groups and Formula SCCA. (The Pro Mazda and the local regions choice, IT of course, were nicely populated and had their own race group). Our group would consist of 2 FMs, 2 S2000s, 2 DSRs and 9 SRFs. Adam Zimmerman was there in a third DSR, but damaged his engine during the Friday test day. Our practice session of Saturday (we chose not to run the Friday test day) was 40 minutes and the qualifying session was 30 minutes. The race would be 37 laps (about 40 minutes). I ran about half of the practice session before deciding I had enough. (We were in the conserve equipment mode). Track is simple and easy to learn, but I was still chipping away at lap times. With the SRFs out there running 6 to 7 seconds per lap slower, we were passing them every 7 laps. It was like a video game with more alien ships dropping in to challenge you. The driving was intense and major fun. I'm sure the corner workers had weary arms after the day from almost constantly waving the blue flag. The SRF drivers, which included two or three Runoffs winners, were a considerate group. Thank God.
The Pro Spec Miatas provided an excellent promotional opportunity. There were hospitality tents and car displays from the area dealers and the Miata car clubs. There were lunchtime drive-arounds, etc. There was a constant stream of visitors to our pits inquiring about our cars. They all loved the sound that our bike motors make. It is amazing the number of people who still lament the passing of the Can Am series.
The Money. It cost Sean and me combined a total of $1250 to enter the races. We netted, before the end of season points fund, $1800. Cash inflow is $550 as compared with a typical East coast National weekend outflow of $800 (two of us). That's a difference of $1350. Let's see, no hassle, customer friendly organization, positive cash flow and double the track time. I'll be back.
The Racing. Sean and I took old tires figuring it was not cost effective to do otherwise. We were going to test the series concept at least cost as possible. Some Forum regulars showed up Saturday to assist/hang out. Jon Darrow, who is narrowing his search for a DSR, and Howard Mellman, CSR sports Toyota, novice license, helped out. Mike Sirianni, who has his Radical for sale, also stopped by. For the Saturday qualifying session, I ran about 10 laps and improved my best time to 0:59.3 which put me third in the sportsracer group behind Jonathan Holtzman (57.3) and Sean (58.3). David Suess in a S2000 would be fourth (1:00.7). We were running our full downforce setups while we learned the track. Jonathan was running a Comprent Racing prepared S2000. He ran the test day, so we expected to see him at the top of the charts. Sean jumped into the SR lead at the green flag. Jonathan and I were close on his heels for several laps. I could pull Jonathan a bit on the front straight and could pull even by turn one. I couldn't make it stick without abusing my tires, so I decide to tail him for a while. Constantly passing SRFs made the gap go up and down often. With two consecutive straights followed by heavy braking, my brakes were overheating by lap 10. I adjusted my driving style to allow brake-pumping time. However, my gearshift got very balky when downshifting. I had lots of bad shifts, particularly downshifting 4 times for the hairpin, and lost tons of track position and got lapped by the leaders. Sean would have a brake problem (small leak) and drop back also. Jonathan took SR win (best lap 57.5), Sean second (58.594), me (58.561), with David fourth (1:00.5). On the podium, we were handed bottles of bubbly. I warned Sean and Jonathan that were would have to wear the driver suit again tomorrow so we decided to douse the photographers. Unfortunately, they heard us and ran.
I would find that the bracket that holds the end of my shift cable had come unattached. It has never happened before. When we got back to the motel, we were exhausted and beat-up. We bought more Ibuprofen. Sean spent an hour in the hot tub (I didn't have shorts or bathing suit). We resolved to spend more time in the gym and less time drinking beer. Now is that likely?
Sunday, the practice session was dispensed with. The qualifying session was longer but I did only 5 laps. I was sore and saw no need to wear equipment. I did take the downforce off my car. Sean had a throttle cable break after 5 laps. Sean had a bit of thrash to get ready for the race. He didn't get around to taking the downforce off his car. For the first few laps of the race Jonathan, Sean and I did the nose-to-tail thing until we started to lap the SRFs. I discovered I had more top speed than Sean (despite his better engine and slicker car) and passed him. I couldn't do much with Jonathan, his driving is slicker than Pam on Teflon. After a few more laps my shifting problem would return and I would move smartly to the rear. Near the end of the race, fourth place David Suess would get by me as I searched for a gear in the hairpin. Damn. Got to do better. I decided to try to do with less downshifting. I caught back up to David on the white flag lap and managed to pass in the esses and hold on, salvaging my podium. Best laps: Jonathan (57.8), Sean (58.9), me (58.7), and David (1:00.7). The FM winner (57.4).
After the awards, we discovered that my car had a wheel that was virtually locked up. Seems the bolt holding the front upright to the a-arm had sheared off. Only the wheel rim was keeping the bolt from dropping out. There was a lot of unintended caster change going on. Scary.
Final Word: Great time. Will get better as the impending hoards of the very sexy Formula SCCA cars get added to the show. Come give it a try. Going to the National at Beaverun in late June? Bring lots of brakes!