F1600 Pro Series – VIR
April 8, 2011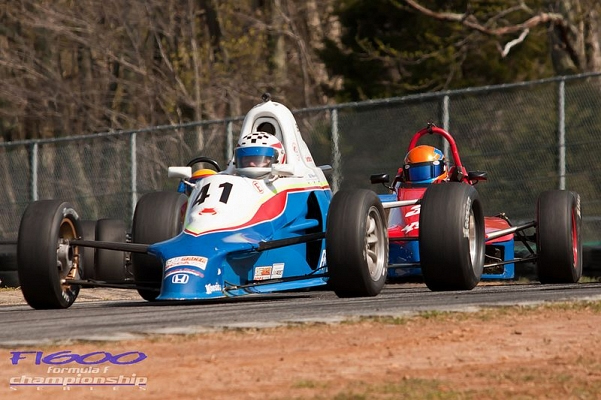 The inaugural Pro FF would be at VIR. Both Sean's and my Honda powered FF's were ready and willing. There would be a large field of top notch FF talent along with a sizeable number of 16-18 year olds, looking to start their F1 careers. Coming up on my 70th birthday shortly, I had no illusions of being a contender. I did want to be part of the landmark event and hopefully not finish DFL.

I've been suffering back pain for the last few weeks; so decided that doing the pre-event test day was too much of a risk. I wanted to make it thru the weekend. Having never driven a FF at VIR, I could have used the practice.

Sean did do the 5 long session test day. I arrived at the track mid-day on Thursday to help and hang out. Due to a last minute cancellation, we were able to rent a garage and room above for the weekend. The garage was a little tight with two cars and alignment pad, but we were very thankful for it given generally cold and rainy days.

FF pilots, Mark Walthew ("I wish my engine was done") and Karl Barbru ("I wish I could find a replacement crank"), worked tirelessly as crew. (Well, Karl being young took many naps). We would be sharing the weekend with a vintage racing group and track time was on a rigid schedule.

Friday we would get two 25-minute practice sessions, and it would be my first time on the track. On lap 5 of the first session, entering turn 4, I heard a very loud BANG, and my car spun off, luckily not hitting anything. A nut on my left front upright had backed off and machined the rim to two pieces. My beautiful newly acquired Panasport was now garage art. Other than screwing up the A-arm rod end (the BIG expensive one), there was no additional damage apparent. I had spares.

I got one lap in the afternoon session when the left front rocker arm fractured (broke like a potato chip) under braking entering Oak Tree (maybe 110 MPH?). I was along for the ride into the tire wall. The tow truck driver and I are getting on first name basis. Repairs took a long time, and getting the upright fitted to the new rocker was a chore requiring some time with a flat file. A-arm was trashed and well as the tie rod, and oh yea the usual fiberglass damage. (At least it not a sportsracer nose!) I didn't have a spare tie rod, so Sean hopped into the golf cart and went shopping throughout the paddock. Russ McBride had two, which didn't fit his Swift SE3. We stopped the car thrash about 9:15 and headed off for dinner. The Tavern had no tables, and the pizza place in Milton had locked their doors to additional customers. We drove the 10 or so miles in a cold rainstorm to Danville and did Mexican.

Saturday and Sunday we would get a morning qualifier and an afternoon race. I got up early to finish putting my car back together (alignment, camber, lots of duct tape on the nose, etc). Barely finished before time to qualify. Given my previous two track sessions, I decided to drive VERY carefully and conservatively for the qualifier. No more tire walls for me (and my spares were now mostly used up). It is 45 degrees and misting rain. My lap times sucked, but the car stayed together and I pulled in after 4 laps. The track dried out later in the session. The leaders are turning 2:02 laps, me 2:18 and 28th of 29.

The afternoon race went much better as I was no longer too worried about the car. The racing was intense, and as Don Baggett (long time FF racer) commented, "It was like the Runoffs on steroids." I passed and got passed by many cars. Many cars were visiting the non-paved parts of the track. We had a double yellow for 3 laps and one final lap under green. I was annoyed that two cars drafted by me on that last lap. Finding a couple of drafting partners was apparently a key to good lap times; good for a couple of seconds per lap. Best time 2:09 and finished 20th. Swift DB1's, like mine, are NOT front running caliber cars, but I finished as the 3rd best DB1. As we pulled into the pits at race end, it started to rain. The F2000 guys in the following race didn't have much fun. Rain, lightning, wind, it must be spring. Garages are nice!

Sunday was supposed to be nice with temps in the 70's. The day began and continued to be very grey and cool thru our noon qualifying session. With the cool temps, everyone ran quicker. I ran 6 laps of the 11-lap session, and decided to pull in after a lap that had 5 or 6 tow trucks on the track. Should have stayed out longer as most got their best laps later. Best time 2:08 and a 26th qualifying spot.

Sunday race: By the 3:45 race start, the sun had broken thru and temps were in the 60's. Again my race start was less than sterling, but three cars went off in T1, and I advanced. On lap 3, Brian Cooperthite apparently left his braking too late in T4, smoking his tires, and hit my right rear wheel launching his car into the air and into the tire wall. All I felt was a big bump and continued on. (I've seen Brian's video and Karl was watching from the snack bar and reported his observation.) Driving a somewhat sloppy last lap, I lost one place (Damn!!) and finished 18th with a 2:07 lap time. Since it was much warmer than qualifying, pretty much everyone else was slower by about 1 to 2 seconds. Since all had to run essentially one set of the hard (R45) spec tires all weekend, some grip degradation was in play. Anyway, it was good progress for me, and I achieved my goal of a top 20 finish.

The second race was a disappointing one for Honda, as their best finish was 7th. We need a bigger restrictor plate.

Overall, the F1600 Pro Series is extremely well run and racer friendly. Registration was a breeze and technical inspection consisted of the "Purple Frog" walking about and eyeballing one's car. Mike Rand, the series organizer, visited many times to see if we were happy and thanking us for coming out. Honda had several reps in attendance and they also visited often. Detailed results were available at the series trailer minutes after each session. Bullet proof Honda engine, spec tires, racer friendly, what's not to like! Sean even gets a couple hundred dollars from Honda for his top 5 Honda finishes.