Big Chill Revisited
Summit Point National, April 06
Despite the weather forecast of rain and cold for Saturday, I would be going to Summit Point again for the annual spring misery National. Kathy, remembering last year, decided to stay home. Sean, and daughter Sammy, who would be picking up some parts in Frederick, MD, would arrive Saturday afternoon to crew. The years of horrible weather had taken its toll on the DSR entry list and only 6 cars were signed up. I had a pretty good chance for a decent finish.

Dave Gomberg and Dick Knoblauch, who were doing the Thursday practice day, thankfully had saved me a paddock space on the pavement. At least there would be no ankle deep mud this year. I arrived at the track on Friday afternoon and enjoyed the warmish and sunny day. The violent storms that were sweeping the mid section of the country would arrive Friday night.

Saturday qualifying day bought unrelenting rain, wind and a bone chilling 40 degrees. Only about half of the DSR clan, the hearty ones, chose to venture out. Chris Mosley, who is getting much faster, was the class of our group. I opted to stay camped out in my trailer with the heater going. There was the hope that the rain would cease by afternoon and I could get a semi dry qualifying session in. It never happened; it just continued to get colder. I did drive down to the lower part of the course to watch the last qualifying session from the comfort of my tow vehicle with the heater going full blast.

Saturday night brought more cold and the water in the buckets that hold down my tent grew a nice layer of ice. Race day was sunny, but very cool, maybe 45 degrees. We all fiddled with warming our engine oil before starting the cars. As race group 3, the track would be somewhat green and cold but at least the rivers across the track had disappeared. Boy, sometimes those many layers of Nomex are nice. Without a qualifying time, I would start DFLast (as I did last year after being DQ'd for sound) of the 16-car CSR, DSR, and S2000 field. Since I only visit Summit Point once a season and had only gotten a handful of laps last year (also cold and wet), it was going to be a learning experience. Figuring my success chances were small, I decided to forego new tires and ran some from last season. At least they were R25's.

Race got off to an orderly start, at least until turn 6. I passed a few cars, but Chris Mosley got hit in turn 6 (from behind I think . . . . I was a ways back) showering the track with fiberglass bits. I found a hole and continued on trying to remember where to shift gears and trying to erase the Summit cobwebs from my brain. I had no idea how fast I was running in terms of lap times since my new data system had not yet arrived.

In a few laps I had gotten past most of the field and all the DSR cars except Dick Knoblauch. Dick has been of a two-year quest to bag the DSR lap record. (Damn you Matt DiRenzo for lowering it to 1:13!) He is getting close and had turned a 1:14.2 at the practice day. I could see Dick maybe 200 yards ahead. He probably thought he had clear sailing and was stroking it. I quickly caught up to him and we began an epic battle for the DSR lead. He was quicker on the straight, but I was able to do a few corners better. I passed him. Missed a shift (I am still trying to learn to shift "backwards" and my brain was definitely regressing at a track where I have run hundreds of laps over the years) and he blew past. In a lap or two, I passed him again. But again missed a shift and he was by. (Damn him, why won't he stay behind me?) On lap 14, I was planning/plotting/hoping to repass in turn 5 or 6 when he suddenly spun in turn 5. His car rotated around maybe 130 degrees and drifted up the track a bit. My avoidance was short by maybe 6 inches and his left rear wheel hit my left side pod and rear wheel. It wasn't even a big thump. I thought I could drive on, but my car was crabbing a lot. I drove slowly to the pits. My upright was broken. Dick couldn't continue either. Dave Gomberg would take the DSR win in his ZX-10R powered Cheetah (after living in racing hell for several years with the Suzuki Swift lump).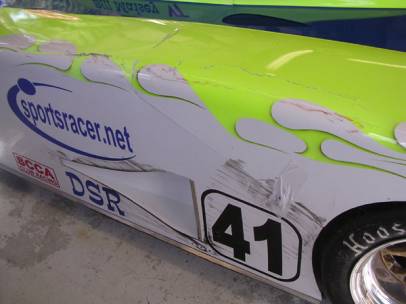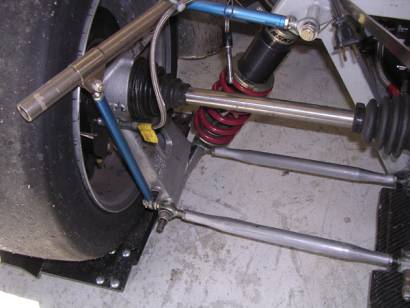 I'm beginning to like the concept of just showing up to race.

No practice, no qualifying.

Look at the money you save: race gas, tire wear, car wear, motel room.

I didn't even have to buy ice for the cooler.

Ok, it is a bit inefficient in terms of tow time and gas, but I didn't have to turn a wrench on the car.

Nevermind.

I must call Bruce and order some parts and go out to the shop and start my fiberglass repairs now.