Pro 1600 at Summit Point
August 24, 2012
I have been looking forward to the Pro race at Summit all season. Sean and I have done hundreds of laps around the place, and were expecting some "home track" advantage. I have done two SCCA races at Summit in my Piper in the spring without seeing any significant improvement in lap times over the old girl Swift. Maybe with new tires . . . .
I arrived at the track at 5 PM for the "load in". We usually arrive hours after the load in, so this is a new (and painful) experience. Since the Pro group was sharing the weekend with a LARGE (200+) motorcycle group, paddock space management was intense. Rand and Co. parked each big rig sequentially and carefully (slowly). It was taking HOURS!!~!!! I volunteered to paddock in the woods, on the grass, behind the tech shed if they would just let me in. I staked out a spot for Sean also. Ray Phillips was the only car to join me in the woods. By the next day, the space would be filled with motorcycles.
Friday would offer 3 half hour practice sessions and one qualifying session. Having to be at work, Sean would not be playing. Frank Malone came up to crew for me and Mark Walthew and Dave Hudson came up to check out the Pro scene and to hang out. In the first two sessions, I was pedaling like mad, the car was handling great, but I was eating dust on acceleration. Laps times were miserable in the 1:22 range. I decided to check throttle opening, fully expecting to find nothing, but discovered that the cable had slipped out of its retention groove. I was only getting 55% full throttle. (Should have checked the data sooner!) Given that, I was amazed that the lap times were that good. Frank engineered a fix to prevent further chance of slippage.
I started the day on used tires from VIR which now had more than a dozen heat cycles on them. Doesn't matter when you are slow. By now, 5 of the "kid" racers were under the lap record. With full throttle, the next session offered promise. Didn't happen as I wasn't significantly faster with a 1:21.2. I did feel that the old tires were done and came in at about mid-session.
Qualifying was next, and I would use my new ($966) tires. By now, the turns were getting extremely rubbered up. On my second lap at speed, I got hit HARD entering turn 5 by an out of controlled Ed Callo. A steering link was broken and my session was done. He hit my left front wheel causing the steering wheel to rotate violently, and REALLY hurting my thumbs. (Got video!) After several days, the big bruises are beginning to fade. Frank and I replaced the broken link and aligned the car. We would also discover somewhat later that the mechanical stop on the steering rack was broken. (+marine tex and clamps). I did manage to out qualify two cars. Three of the kids were now doing amazing 1:13 laps!
Sean made it to the track Friday night and setup. We arrived early Saturday morning so Sean could run the brief warm up session at 0800. As we were leisurely getting ready, we heard cars on the track. They had moved warm up to 0730! We did the fire drill thing and got Sean on the track in time for a few laps at speed, which was good since he would be starting the race without qualifying or practice.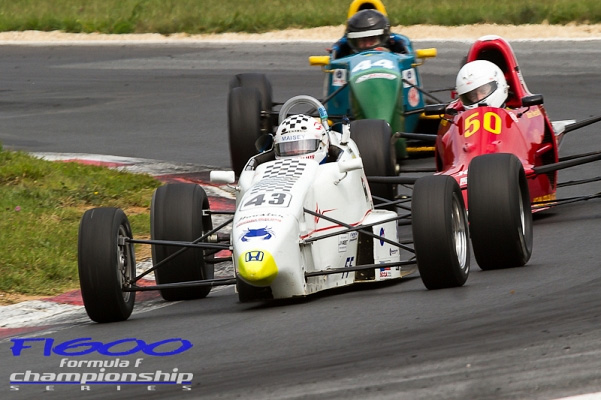 20 lap Race at 1100. Sunny and 85 degrees. I got a pretty good start, following the Japanese kid (Tanaka) in the Mygale. Things got bunched up a bit on the inside lane, and I see Sean closing on the outside. I lift a touch and give him plenty of room to get by. Tanaka's lines are a bit random and Sean gets by and I stay with him for a few laps. Nesbitt and Callo are on my tail and pressing hard. I am determined to keep them behind me. I get more than one "love tap" from the pair; they seem to be taking turns. About at the race mid-point, Callo would go off and park it. Nesbitt would spin shortly thereafter and lose contact. Despite trying hard, I do not go faster much and end up with a 1:20.6 lap. I really don't know why I am slower that I was with the "ole girl" Swift which had a smaller restrictor and older tires. (Best lap with the Swift was 1:18.1) Running the Piper in the two earlier races this year at Summit (smaller restrictor, used tires) yielded 1:19.2 laps. This mystery will have me pouring over the data for weeks now.
Sean had a nice race, running a 1:16.69 lap which is a lot faster than his previous best. Cool. A late spin likely cost him a couple of spots. He would end up 14th, me 15th of 18. Our AIM SmartyCams worked great.
It rained overnight, but Sunday morning was dry/drying under clouds. Weather radar indicated that most small rain cells had passed. Sleeping in a bit, we got to the track about 0900 for our 1100 race. Sean did an adjustment to his brake bias mechanism. We mostly waited. By now all crew had gone home. Buckling yourself into the racecar is the most challenging task, so you give yourself extra time. We are both all buckled in at 1050 when a rain shower pops up. We stare at each other and shrug. The shower is very brief and we gamble that the track will dry quickly. No time to change to rain tires anyhow. As we get to the grid, a HEAVY shower falls. S*$%!! Sean and I would be the only cars on slicks. It's gonna be ugly.
We have two pace laps, and many cars spin off. I go slowly and somehow avoid rotations. At the back of the field, there is no vision and of course the visor immediately fogs over. I do the green flag (not that I saw it) lap, plus one, falling to DFL. Knowing that I hold a terrible hand, I fold and come in. Sean continues to a laudable 13th place finish. Surprisingly, the field finished without any major crashes (but dozens of spins, including I think 4 for Sean).
Postscript:
Going to a Pro race without adequate crew, is not a good idea. Until the Pro fields flesh out with club racers (if ever), there are too few mere mortals to race with.
More later.