Pittsburg
August 2016
Despite Pitt being out of my towing comfort range, I decided to enter the RCFFS (Right Coast FF "Series") races Aug 5-7 at the recently expanded Beaver Run track just North of Pittsburg. We would be running with the F2000/F1600/FA "pro" guys. The Series is seeing some growing interest and had 27 cars entered.
The track, now renamed to Pittsburg International, has been extended to 2.8 miles. Money has been spent as there are now real buildings, acres of paved paddock, garages and lots of nice attired staff. It is not up to VIR standards, but way nicer than Summit. However, the "Pennsylvania Penthouse" (an old house trailer perched on top of an old shipping container) is still there serving timing and scoring.
The Series is a "run what u brung FF" affair. Any car, any year, any tire, Kent or Honda. A couple of guys run new Mygale Pro cars with sticky slicks. CF's make up about half of the field; but no there is no tire rule. I run the relatively hard (and longer lasting) Hoosier R60 tires mandated by DC Region. With absolutely no compliance checking, some could be tempted to augment engine preparation. However, what's the point? Everyone is running for no points, or cool trophies or anything of value. It's for fun. Time will tell if it is a workable concept.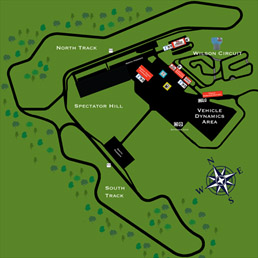 The track layout is a boomerang in shape. There are 3 blind corners and 3 straights of 120 mph and 4 gear length. There are EIGHT relatively slow chicane corners to waste your time and test your patience. The old part of the course is VERY bumpy and hard on the cars. (It will be pulled up and redone by next year it is said.) I give this place a grade of C minus. Learning the blind corners does raise the pucker factor for the first 10 of so laps.


Flying solo, I head up the road on Thursday mid-morning. Easy traffic. I was somewhat taken aback with the PA turnpike toll of $26 for 140 miles. Didn't expect it. I was raised in the time of nickel Cokes. Got to Pitt about 4PM and found my way to the Series paddock space. As the "poor step children" of the weekend, we were relegated to left field. Track did provide a convenient porta potty and left field was paved. A few electrical connections were available for $25 PER DAY. If I had known, I would have brought my quiet Honda generator. Instead, I got to hear other's drone on for hours.
I went to dinner with Joe Marcinski, Mike Hummel and assorted others and wives. I would get to my motel about 2130 (That almost my bed time!)
Our sessions each of the three days would be at 0910 and 1545, so down time would be considerable. For the Thursday practice session, I along with the other first timers proceeded with caution. It took the entire 25 minute session to MOSTLY figure out what was around the next corner. A couple of the corners were still a mystery. I was running my Summit gearing which seemed to work fine. I was very surprised to discover that my times (2:01) were mid pack (16th of 27) and within a second of 5 or 6 guys.
The afternoon was 90+degrees HOT and everyone's lap time should suffer it was said. Didn't happen as I went 2.4 seconds faster, but fell to 19th. What? Three of the Pro 1600 competitors were running with us and were turning times 8 seconds (!!!) faster than me. Near the end of my session, my dash went dark and the engine started to run poorly. It was in the limp home mode for the last lap. All those bumps had taken a toll. The ECU connector seemed loose, so I reseated ALL the connectors and everything worked again.
The Saturday morning session was the qualifier for the afternoon race. Not wanting to run my spec tires down to the cords again like last year, I had a new set mounted. As I was putting them on the car, I noticed a wheel weight lying on the pavement. Back to the Hoosier guys. Yep, it had fallen off. The first few laps of the session, I seemed to have lost my memory of the track in places. Wow, but it came back. I did not notice any ANY improvement in handling of the car with the fresh tires. I had only a modest improvement (0.4 sec) in lap time. Curious and disappointing.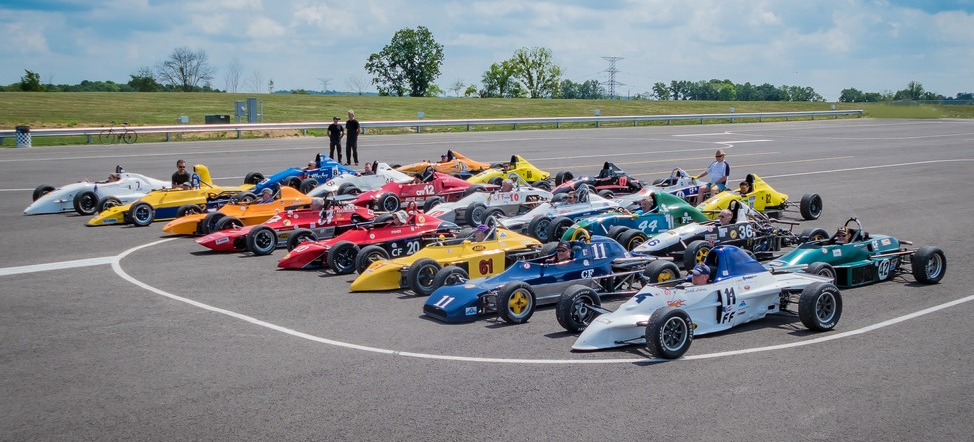 During the lunch hour a group photo of all the FF cars, including the Pro 1600 was taken in the south paddock. Most of the cars made it to the photo. Mike Rand was intrigued by the contrast between a 74 year old CF driver (me) and a 14 year old Pro 1600 driver Kaylen Frederick. Kaylen won the Sunday race. Rand arranged to have us pose with our cars. Oh my God . . . 60 years! Copies of the photos have not yet made their way to me, but I will post them when I get 'em.
Saturday Race. Got a decent start and was running just in front of Chuck Van Nostrand in about14th place on lap 6 when the car just shut down exiting turn one. Coasted to a stop in a safe place and turned into a spectator. After the race had ended, I was able to fire the car and "limp home." At this point, I was ready to pack up and head home. But, I knew that if I didn't find the culprit in my wiring, it would drive me crazy all the way home. So, off came the body and the cover to the ECU again and data system. All connections would be examined again. I found the connection between the Honda harness and the data system to be very poorly seated. I had to file down the diameter of the small connector to get it to easily insert into the female connection. This time, I secured it with ample high strength tape. Again, all systems were now working. These loose connections were not helping my lap times.
So, I decide to stick around for the Sunday morning race. What the Hell, the car is likely fixed, the motel room is paid for, and I could use a good night sleep. Gas her up, and ready to go. I would not be staying for the Sunday afternoon race as I had things to do at home early Monday. I would be using the 6.5 hours until the afternoon race to Race Home.
Sunday Race. Off at 0910 for a 25 minute scrum. I would again start in 19th place and again I would be aside Chuck Van Nostrand. Chuck and I run pretty much close to each other at all the Summit Point races. Unlike the prior day, the pack had time to form up before the green flag. I took a center approach to turn one and got around Chuck and some others (my camera doesn't allow much view to my right). By turn 4 I had overtaken two more. After this there were few passes, except for the several cars that had gone off course.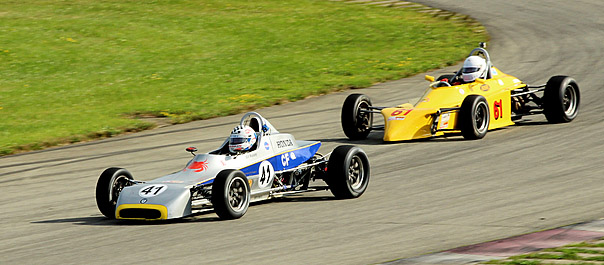 A double yellow followed on lap 5 for 3 laps or so. I had a significant gap on the cars behind me, but of course they got to catch up. There was Chuck again filling my mirrors. I nailed the restart, but so did Chuck. It was going well until I chose to follow the new blue Mygale on the outside going into turn one. Bad choice. He just about stopped for no apparent reason. Lost a place. My task afterwards was to keep Chuck behind me. I made an error entering the old North Track and got two wheels off track. Chuck pounced and pulled alongside but I recovered and out accelerated him. I botched one shift on the following lap giving Chuck some hope, but held on. On the 10th lap, the race had reached its time limit and the checker came out. I would finish 9th just behind David Gernert in his new Mygale. My laps times were coming down in each of the green flag laps. I was finally learning the track. My best rolling lap was a 1:56 which was 5 seconds faster than my first practice session.
Not too shabby for an old guy, but WAY OFF the pace for young guys in new cars. I'm OK with that.