Jefferson 500 – Summit Point
April 30- May2
<![if !supportEmptyParas]> <![endif]>
Having spent the prior two months doing the Honda Fit conversion to the newly acquired Swift DB1, I was ready for some seat time.  My Crossle vintage FF had been race ready for months.  Time to take it out and play.
<![if !supportEmptyParas]> <![endif]>
With Sean still in the throes of recovery and Kathy not interested in a shopping trip to Northern Virginia, I would go alone.   I skipped the VRG practice day on Thursday and drove up Friday morning leaving at 4 AM.  It has been years since I did one of those EARLY morning departures, but it wasn't too bad.  I had spent the most of the prior week working on Eric's fiberglass repairs from his roll over experience at Atlanta.  My chronically splitting fingers problems were is fully bloom, but I didn't expect to do much car work.  Just gas, tire pressure and play.  
<![if !supportEmptyParas]> <![endif]>
I got the track in time to do tech inspection and make the 10:15 qualifying session.  The was a big turnout, so I had to paddock in the "woods" in what is now becoming "my spot."  The biggest challenge all weekend was getting myself buckled in the car.  I got better with practice but it was never quick.  With 13 FF's in our group, there were plenty of cars to play with.  The track was good with fresh pavement in place of all those shitty concrete patches in most of the corners.  All the bumps were gone.  The Crossle felt good and the tires were "chirping" loudly, as the are suppose to do, in most corners.  I qualified third fastest, off the best time by 1.4 seconds. 
<![if !supportEmptyParas]> <![endif]>
Friday's race was in the afternoon under sunny and 85 degree conditions.  On the second lap, with the field still pretty much bunched up, I got brake checked at the APEX!! Of turn 3 (have no clue why the guy in front of me braked there) and did a half spin dropping several places.  I would spend the rest of the 12-lap race catching up.  I made many passes, some more successful than others, going into turn one.  I was on the tail of the second place FF going into T10 on what would turnout to be the last lap as the faster FB leaders came blasting by.  They screwed up my passing intentions and I finished ½ a car length short of second place but had a faster lap time. Bob O'Conner stopped by later in the afternoon for a visit.
<![if !supportEmptyParas]> <![endif]>
Saturday same drill, qualifying then race.  Qualifying went fine, except for a partial spin in turn 8 when I hit the apex curb too hard.  Improved my lap times to 1:25.  Pole sitter, Kyle Kaulback, in a Lotus 69, was 1.1 seconds faster.  After the session, I was talking to Bob Bruce who was running a Crossle 45 in the CF class.  He suggested increasing tire pressures to 16/18 (I had been running 13/15).  He said that the Canadian FF racers, who use the same Dunlop treaded tires, recommend higher pressures.  I decided to try it for the race.  Big mistake.  No more tire chirping, and much sliding about.  
<![if !supportEmptyParas]> <![endif]>
Mark Walthew came up to help out Saturday afternoon.  I would start third and finish fourth.  Mark who would watch from turn one, got some good photos of my "half spin" when trying to out brake a competitor.  I passed and got repassed by several cars in the race.  Dave Fairchild with his son Scott came over after the race to complain that I had cut him off and made him go into the dirt exiting turn 2.  I countered that I was running my line heading into turn 3 and his attempt to pass on the right was ill advised.  In turn, I pointed out that Scott has come over on me as I did an inside pass going into turn one at some point during the race. 
<![if !vml]>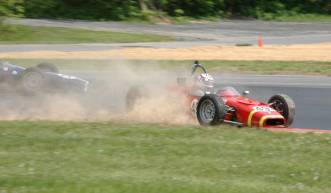 <![endif]>  <![if !vml]>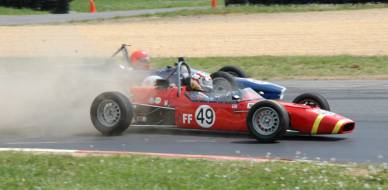 <![endif]>
<![if !supportEmptyParas]> <![endif]>
Saturday night, as is the usual practice at major vintage race, there was a big banquet under a huge tent setup outside turn 7.  Brian Redman and Vic Elfort were speakers.  Good Food.
<![if !supportEmptyParas]> <![endif]>
Sunday was under the cloud of a HUGE pending storm that had hammered the mid section of the country earlier.  Severe thunderstorms were promised for late afternoon.  A lot of racers went home.  It was cloudy but warm at about 90 degrees.  There were a few sprinkles, but the track didn't get wet.  I chose to run only a few laps in the morning qualifier, committed to packing up and going home if the rains came.  VRG was in major panic mode trying to shorten the race day.  Still qualified 4th in FF.   VRG decided to combine the 6 race groups to 3 and to shorten the races to 10 laps.  They put the "wings and slicks (tires)" with us.  Since the consistently fastest FF pilot, Kaulback, was also driving a F1/FA/?? car, he chose to drive it in the race.  It was interesting to be among several CAN AM cars and a 6 or so fast winged formula cars.  Expect to get lapped since they were given a head start/split start.  There were a few raindrops on my visor as we headed out.  I got a good start and was first in FF by turn one.  I was being cautious behind all those big bore guys and got passed by one FF in turn 2.  This guy braked HARD setting up for the chute, and I dove under him and ceased the apex.  In a few corners, I didn't see anyone in my mirrors.  I drove carefully thereafter to take the WIN in FF.   Nice ending for my weekend. 
<![if !supportEmptyParas]> <![endif]>
It never rained much and I was packed and headed home by 3:30.