Bone Head
10 March 2003
Savannah would be the first race of my 2003 Season.  I couldn't get motivated to do the Florida races and the weather forecast for Kershaw in February was just awful.  With my judged "soft" stock motor, I am not too anxious to venture out until my "improved" motor is ready.  I took my donor stock motor to the builder before Thanksgiving, hoping to get it back in January.  I still see no light at the end of the tunnel.  What is it about engine builders?  While prepping for this race, I did discover that my throttle was not opening fully (maybe 90%), so maybe my motor was not too "soft."  Sure wish I had checked it before the Runoffs race.
<![if !vml]>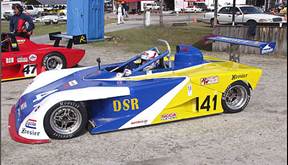 <![endif]>I like the track at Savannah.  I have always been reasonably fast there.  The absence of any corners slower than 70 mph must suit my driving strengths.  I really don't know.  I have been within a whisker of taking the DSR lap record a couple of times.  Sean, on the other hand, hates the place and has never done particularly well there in FF, FC or DSR.   But the winter has been cold and nasty, so the prospect of an early spring race won him over.  Kathy, who had spent lots of hours and days in Texas with the NASA Columbia debris recovery, was also looking forward to a road trip (shopping adventure).  Even the weather forecast wasn't bad.
<![if !vml]>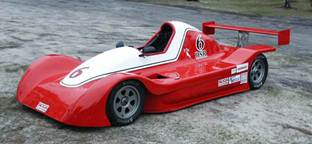 <![endif]>Kathy and I would leave Thursday morning.  I was not doing the Friday test day, but would be helping Brian Little.  Brian has redone his Ralt/Honda DSR and was looking for some test-driving while he waits to sort out his medical problem.  Brian, his son Rich and I all closely watched the weather channel for days and decided to risk it despite a 70% chance for "light rain."  
The highlight of our drive down was the blowing of a trailer tire near Fayetteville, NC.  It was not a hot day, nor was I running much faster than 75 mph, and the tire was NEW.  But blow she did.  Much smoke.  Unfortunately, we were on a section of I95 under construction and fenced in by Jersey barriers.  It was a mile or so, before I could pull over.  By then, the rim had been reformed.   A side trip to town yielded a new spare tire and wheel.  Ka-ching.  We drove the last 200 miles in rain and got to the track about 8PM.  Most of the paddock was under water of an inch or two.  We chose a usual place along the fence and dropped off the trailer.  Savannah has VERY sandy soil and the water will get absorbed very quickly as soon as the rain stops.  He says.  Never happened.
The predicted light rain turned out to be constant and frequently heavy.  The track cancelled the test day early Friday morning.  Several parts of the track were under water.  Met up with Bob and Matt DiRenzo Friday morning.  Matt is a new "20 something" racer with a new Stohr DSR.  Matt and his father had escaped the snows of New Jersey to jump start their racing season.  Matt really wanted the test day.  Matt and I asked the track manager if I could take him on a familiarization lap.  They said no, but the tow truck operator volunteered to take us.  I provided commentary and the very large tow truck provided an excellent view. 
The day Friday (of course Kathy was off shopping at Hilton Head) was spent in one trailer or another, swapping stories and staying mostly dry.  It stopped raining some about 5 PM.   I got thru registration quickly and Kathy and I were off to downtown for dinner reservations.  We saw Sean arriving as we were on the road. 
<![if !vml]>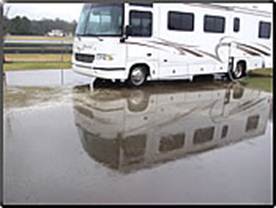 <![endif]>Saturday began with heavy fog, plus I was annoyed that it was cold enough to see one's breath.  Since our race group was last, the fog had mostly gone by the time we went out for a practice session.  Sean told me his plan was to run a couple of warm-up laps followed by a couple of hot laps and to come and save his tires and equipment.  We would both be using our stock (junkyard) motors and tires left over from the Runoffs.  I had no plan.   I usually start slow and work up to speed slowly.  Within two corners Sean and Jasek Mucha blew by me like two souls being chased by the devil.  They were gone immediately.  So much for Sean's warm-up.  Sean's motor would seize on Lap 5 and he would spin and end up parked on the apex in turn one. 
The track was cold (as well as the temperature) and my car was not too happy in turns 3 and 9.  There was no chance of me going thru at full throttle yet.  I was reasonably happy with several laps in the 1:13 range, but was absolutely amazed at Sean's 1:10.69 on his 4th lap.  He said for the first time ever, his car handled and he could go flat out in turns 3 and 9.  Unfortunately, his spare motor, like mine, was at the engine builder's for an unintended extended stay.  He would have no choice but to go home.  He was happy with his lap time which was within 0.3 seconds of Chip Haddock's lap record.   Mike Schmidt, the sole "PIG" to make the race, showed some very good speed (1:12.2).  After blowing two GSXR motors at the Runoffs, he has found some reliable HP.  I had dinged the splitter of my nose when I did a brief off course in oil/?? in turn 5b.  I had to fit the replacement nose, which required some trimming.
<![if !vml]>

<![endif]>   
It got up to the mid 60's for the Saturday afternoon qualifier and the sun occasionally peeked out.  I took about half of the rear wing out.  I need more top speed.  I spent most of the session dicing with Marc Walker who was driving a very quick S2000.  He would kick my butt in turn 2, but I could close elsewhere.  I was trying to figure out his technique, but still remain baffled.  I did about 13 of the 20 laps in the session.  Everybody improved their lap time considerably.  I stole the DSR pole with a 1:11.5 with Schmidt a mere 0.2 seconds behind.   Matt and Ben Johnson and Craig Stafford (both Radicals, Ben has GSXR power) were not far behind in the 1:12 range.  Mucha had car problems and did not post a good lap.  He would be starting from the rear of the pack.  The first couple of laps of the race promised to be entertaining.
Kathy and I went to Churchill's English Pub for dinner.  We returned to our room in time to watch the Australian F1 race.  I stayed awake for most of it.  I looked for Tom Robertson in the crowd shots.   No luck.   We made our way to the track by 11 AM on Sunday.  I did the car prep and we waited.  Our race would get off about 3 PM.  About an hour or two before our race, we started to get drizzle.  I hate sitting around wondering if I should put on the rain tires and setup.  I have frequently made the wrong decision.  Mike Schmidt sat in the paddock until the last minute, poised to mount the rains.   I sat on the grid, under the umbrella hoping the light rain would stop.  Amazingly it did just minutes before our group rolled out.  The track was 95% dry.  Time to rumble. 
It was essential that I get a good start with the entire DSR pack closely on my heels.  I was starting from the outside pole position beside the S2000 of Walker.  As we rolled around turn 9, I could barely make out the starter's stand because it was so FAR away.  It appeared that he was immediately waving the green flag.  I didn't believe it for a split second, but then immediately nailed the throttle.  Yes, he was waving the green.  I won the drag race to turn one by several car lengths.  Walker and I had put a lot of space between the second row starters and us.  Walker still having his turn 2 magic, pulled up on my rear quarter.  I decided to let him pass and concentrate on the DSR guys behind me.  As a pair we circulated easily turning times in the 1:11's.  Kathy was giving me lap countdowns over the radio.  I can see no one in my mirrors.  I was somewhat surprised.  I tell myself, it is time to ease off.  Car is running great and shifting like butter.  I have no problem running turns 3 and 9 flat out.  All gages are well within the safe zone. 
I am mentally engaged in a conversation with myself on how best to back off.  I enter the turn 5a-5b complex, which is a left hand sweeper with lots of g's, and my foot slips off the brake pedal and hits the accelerator.  I have no chance to slow adequately to turn in for 5b, so I take a 20-foot wide arc into the sand rut field.  The waterlogged sand is very heavy and destructive to my fragile Cheetah nose.  I get the car back on track, still in first place.  Boy does this thing feel bad now.  (I would discover that the front wheels would have about 5 pounds of sand slurry packed in them and the heat immediately baked it to a substantial crust).  I ran another lap as I saw Matt DiRenzo's car close up.  As I entered turn 6, the nose/splitter folded under more and the car skated off the outside of the track.  Most everybody else went by.  I got underway again, fiberglass parts dragging.  As I went down the front straight, the body was dragging on the front tires and I was making so much smoke, Kathy URGED me to come in.  I pulled over just past pit out and checked the gages.  I decided to do a slow lap to get back to the pits where I asked Kathy to pull the dangling nose parts.  What was left of the Kevlar splitter would not pull off.  I retired, being very annoyed with the driver.  I did have enough laps to be classified as a finisher.  Small consolation.
Matt would be the DSR winner after a long dice with Mike Schmidt (the bearded one) who said his tires were going away.  Matt had a very good day.  It was his 21st birthday, his first National race, his first win and his first visit to Savannah.  I hope he bought a lottery ticket.  Ben Johnson in his Radical would just edge out Craig Stafford, also in a Radical, for third. 
<![if !vml]>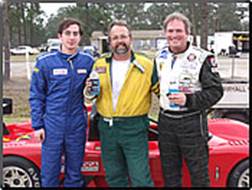 <![endif]>
Last year, 13 DSRs came to Savannah.  Only 6 made it this year.  Don't know why there is a downturn in participation yet.  Perhaps the bad economy has finally caught up with SCCA racing.  Or maybe, it was just that most of the country has been suffering thru a long, depressing, cold and dreary winter.  I know I have been reluctant to spend time in the garage. 
With Bike week coming to an end at Daytona, the ride home was more entertaining with the constant parade of vehicles hauling motorcycles.  We got home at 2 AM without any trailer tire adventures.  I beat up the Bone Head driver all the way home.  I hope he'll do better in the future.
(photos lifted from Vic Moore)