For our 20th wedding anniversary, Kathy and I took a vacation trip to Europe. First stop was Madrid where we would take a tour "coach" for 8 days. My first impression of Madrid was that it is covered with graffiti. Interestingly, most of it was done in white and grey paint. Did Picasso use up all the color paints? Spain is still very much a poor country getting over decades of dictatorship. The huge majority of cars were small (lots of 670 cc Smart cars) and since there is apparently no place to park in Madrid, they all sported battle scarred bumpers. Motor scooters accounted for at least 40% of the vehicle population. People parked them (and frequently drove them) on the sidewalks. There was a subway, so we could get around.

Madrid is a hilly city, and they employ steps everywhere. I have dubbed it the city of 10,000 steps. With my bum knee and foot, it was a chore. Pick pocketing is a major cottage industry throughout Spain. Three young ladies trying to pick mine (actually my fanny pack) while I was riding the subway. I managed to foil them. Spain, although brutally hot, has just discovered air conditioning. Window units protrude from building like millions of pimples. Didn't do much for the aesthetics. Europe is in a major frenzy about World Cup Soccer. Soccer dominated TV and the newspapers. Most of dry and arid (think Death Valley) Spain's millions of acres are covered with olive trees. The rains in Spain fall mainly on the plains. We didn't get to see them; don't know where they are.

Tour took us off across (actually down) Spain and we saw far too many churches, castles, and museums. Tour guide, Fred, said that some call it an ABC tour…. Another Bloody Church/Castle. My short attention span is tolerant of maybe one each. Tour provided breakfast and dinner on most days. Food was generally mediocre at best.

Tour did give us a couple of days of R&R in Torremolinas in a nice hotel on the beach. It was near the end of the "snow bird" season, so the topless sunbathers were more than I wanted to see. Torremolinas is on the Mediterranean Sea not far from Gibraltar. Beautiful place. The ride back to Madrid included a stop in Seville (nice place) and took us by the Jerez motor racing circuit. No, the coach wasn't interested in doing a stop.

When we got back to Madrid, the International Car show was in town. We went the morning of the day we would leave for London. Kathy saw what she thinks will be her next car, the VW Eos. It has the requisite 4 seats and the roof retracts making it a convertible. I had seen this incredibly cute LITTLE roadster in Torremolinas with Smart Car on the steering wheel, but sported Ferrari stickers on the front and rear. Saw it at the show. Only 670 cc motor, but very attractive. Maybe I need a new pit vehicle?

England part of the trip would be withOUT a bloody tour. The way I like it. We spent a few days in London with Kathy shopping and taking in a few shows. Lots of subway time. Coming from 90 degree temperatures in Spain, getting used to 40 degree nights and rain was a bit of a shock. We both arrive home with colds.

We stayed in a hotel in a nice part of town, Kensington Park. We had many pub lunches and did one "high tea." London is fantastic for car watching. Too many Mercedes and Porsches to notice much. Hundreds (yes, hundreds) of Ferrari's, Bugatti's and Aston Martins. Stand on any corner in Kensington, and see 3 or 4. About 40% of the regular population of London cars are the Mini Coopers. Wonder what they drove before the Mini? Kathy noticed that there appeared to be a total lack of beater cars.

Second day in London, I took a train adventure out to the Brooklands circuit/museum, which is maybe 20 miles away. Most of the 1907-built high banked, 3.2-mile course is still intact (with grass/weed growing in the cracks). On site is also a major aircraft museum. I got to peer inside of a Supersonic Concorde they were reassembling. For a few "quid", you get to be driven around part of the circuit in a 1920ish replicar. Despite rave reviews and recommendation from a RaceCar Engineering staffer, I found the exhibits a bit boring. Way too many bicycles, motorcycles and stuff. Good news is despite a couple of train transfers required; I did not get lost and made it back to the hotel.

The next day we picked up a rental car and headed out to the countryside. The car was a merciful small Ford Focus but I found shifting with my left hand to be a constant challenge. Kathy would say my challenge would be to keep the right hand drive car off the inside (her side) curbing. She was constantly reminding me to move over a bit. I only hit a few curbs. The car was small or it could have been a lot worse. As usual, the British practice of using roundabouts at all intersections, required careful attention. My brain just doesn't work that way. While driving on the multi-lane motorways, I again noticed the unfailing British discipline of keeping the passing lane clear of slugs. Boy, I wish that were true here. Speed limit was not posted on the motorways (I'm sure there is a National limit that you are supposed to know) and I kept up with traffic doing 80 mph.

We drove to Donington Park Raceway about 80 miles north. I had tried to book a "track day" where you drive (under careful supervision) a Ferrari in the morning and a FF in the afternoon. They were booked until July. Oh well, I will plan ahead more next time. Fee is a very reasonable $250. The day we arrived, a motorcycle group was using the track. After checking with the security guard, they allowed us to wander about freely. On the track grounds is the Donington Museum, which has over 300 F1 cars dating from the earliest days on display. We chatted with the staff with the plan to return the next day, got some hotel recommendations. We went into the nearby town of Donington Castle and found a local pub. The owner was a major F1 fan and has attended all races except Japan. Food was a tad iffy.

The next morning we spent several hours in the museum. It is simply wonderful and breathtaking. Car guy heaven. Even Kathy liked it!

Next stop Mallory Park Raceway. The staff at Donington had given us directions (UK version of Mapquest). It was only 25 or so miles away. Nice drive in the countryside. When we got there the British superbike people were setting up for the weekend race. There was a large population of spectators setting up also, most driving large American RVs. It must break their hearts to fill those beasts up with $8 per gallon petrol. (It cost me $84 to fill the small tank of my rental Focus.) I asked at the office if I might drive my car around the track for a lap or two. They said it would be OK most days, but the bike people had taken control of the track today. I walked around the track (quite short at 1.4 miles or so) and poked around in the paddock. Neat stuff those bike guys have.

Next stop Silverstone, which is another 30 miles back towards London. They too have track days, but none this week since they were in the throws of preparing for the British F1 the following weekend. They wouldn't let me too near the racing surface, but once I told the gatekeeper that I wanted to buy some souvenirs, they let me into the garage annex where the official Ferrari stuff is being sold. Once inside we wandered around a bit and I bought some gifts. After leaving the garages, we drove across the road to the Midlands (Jordan) F1 factory. By now it was getting late in the day and the office staff was leaving. I decided not to beg for a tour. Next time.

We drove down to Oxford next. We did a quick recon order, before finding accommodations outside town. (Lesson, without advance reservations, be prepared to pay thru the nose.) Nice college town. Bicycles were the principal mode of transportation. Next day, we headed off to Brighton Beach.

Brighton is a beach town, I guess. There is a beach, no sand, but lots of river rock like beach. It was too early to be pleasant, but the town was filled with bundled up tourist. Place was tawdry, much like Atlantic City was 20 years ago. I don't imagine that the English Channel ever gets warm. Finding our way out of town was an adventure. Huge traffic, narrow roads. By now I was beginning to be able to find 3rd gear most of time with one try. We drove back to near the Gatwick airport. We would depart the next morning.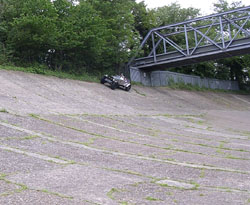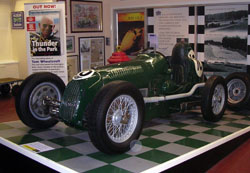 Brooklands Donington Museum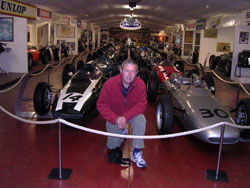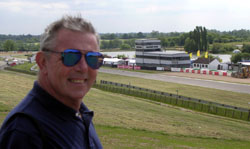 Mallory Park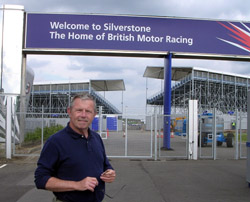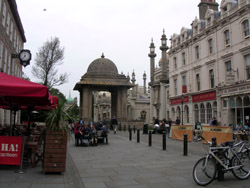 Brighton Beachre