New Jersey Motorsports Lightning Track
3 June 2017
How did I end up in New Jersey? I had been needling Kathy that she had not been to a race with me since 2008. She said she would go to one this season, but was weary of Danville and Winchester, Virginia. When she saw the New Jersey race on the RCFF schedule, she was interested in visiting that cultural mecca of Jersey. Me, not so much and it was an annoying, traffic stuffed ordeal away. But when she retired from NASA (last week!), we agreed it would be her first Retirement adventure. A room was booked, dog sitters arranged and an EZpass purchased. I even made a couple of sandwiches for the ride.
I found a couple of videos of a formula car on the track to study. I was not successful in finding a race simulation for the track. So, I was going to a heretofore unseen track. Being a careful, methodical, and deliberate learner of tracks (read, slow), it was gonna be an adventure for me too. RCFF had been at NJ for a couple of years and the track has been there for maybe 10 years. I would likely be the only "newby" among the 20 cars entered. (And yes I could have run the test day to learn the track, but I now avoid wearing out the race equipment with a long and demanding day – and I don't mean the car, I mean the old driver.)
We got to NJMP Friday afternoon, and staked out a piece of the mammoth paved paddock near many of the RCFF clan. I did discover later that there were some power stations in the grassy paddock a ways away. (That area was already mostly full.) I needed the annual technical inspection and found an inspector roaming about and he did mine in the paddock. Registration was a total breeze too. I'm beginning to like NJ.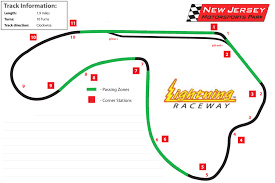 I'm chatting with Mike Rand and Chuck Moran and ask where the gas pumps are and get an unexpected answer. Turns out the world in NJ is slightly askew from usual expectations. State law prohibits putting gas into any container that is not RED and clearly marked Gasoline. All those nice see thru jugs that we have in our trailers are forbidden. A sportsracer driver lends me a jug. Then I find out the pumps are NOT automatic and you have to wait until an operator shows up. Cash payments preferred.
Before the two races on Saturday was an early "qualifier" of 15 minutes (8 laps). Mike Rand gave me a quick coaching on the track . . How not to be totally lost 101. In order to make the session more interesting, we had a light rain to contend with but I don't think it compromised traction much. I ended up 9-10 seconds off the pace of the fast cars (and without much of a clue of how to go faster). I would have the "DFL" grid position for both Saturday races. Time 1:22.
First up was the 20 lap RCFF race just before lunch. It was not yet in the heat of the day and the rain had exited. Following a 20 car pack of angry open wheel cars into turn one at 120 mph is a big rush. Turn one is a big blind sweeper much like T10 at Summit or (as I was told) the "downhill" at Lime Rock. I take the inside path and pass 5 or so cars. I go to school on the course over the next couple of laps amongst a gaggle of cars. I am beginning to take the relatively high banked "light bulb" with more throttle and it feels good. I overtake a few more cars including Chuck Van Nostrand. Turn 5 is still befuddling with it steep uphill to a blind apex and falling away track out. Several cars would have offs there. About 3 laps from race finish, I crested the turn 5 apex to discover a spun car sitting across the pavement. It caused me to spin and to see many of my prior conquests go streaming by. I did manage to retake a couple of places before the race ended. I would finish 12th (9th if not for the spin) with a respectable 1:14 time. That was around 2.5 seconds off the winning FF.
Again starting DFL for the afternoon SCCA race, I have a productive start and pass 5-6 cars. I pick off a few cars over the next laps and come up Van Nostrand who keeps me at bay for two laps. I out brake and get by in turn 7 and open a small gap. Coming around to 5, I brake and turn in a bit late and join the spinners club. Goodbye Chuck and others. I gather myself up and salvage a few spots over the last 4 laps to again finish 12th. On a hot afternoon track (and rapidly fading tires), my time suffered to the 1:15 range. I went off to find coaching on T5. (see footnote)
Kathy had been off exploring Cape May for the day. She returned late afternoon. She had bagged a few "gathers" and had a nice day sightseeing. We decided to enjoy some NJ pizza and a beer for dinner, only to find out that pizza joints in NJ don't serve beer. Some more quirkly NJ rules. It's un-American to eat pizza without a beer to wash it down.
Long before entering the NJ races, I had decided to skip the Sunday afternoon RCFF race. I wanted an early departure for the long and slow trip home. Sunday traffic is the worst. I also skipped the Sunday morning warm-up session. Our 20 lap SCCA got off about 1030. Nice sunny day and heating up rapidly after a 45 degree morning. I did note that several competitors had new tires. Yea, mine were past due, but I'm not sure I care a lot. All weekend long, I had not touched my car except to add gas and check tire pressures. Concession racer! Life is Good.
Got to start in 12th for the Sunday race. Passed a couple in T1. Found myself and 4 other cars locked in a gaggle for position for many laps. Fun and demanding. The gaggle overtook a couple of cars but was still pretty much a 4 car formation entering all corners. I found a high and low line in the banked "light bulb". About midrace, entering T7 (hard braking, first gear left hand turn), I lost concentration and spun. (Not absolutely sure why, will have to wait to see the video). A bunch of cars drove by as I threw up a sizeable cloud of yellow dust. Again, I was able to recover a few positions over the closing laps and finish 11th.
Lessons learned: this old dog can learn a few tricks and to avoid the NE corridor on weekend days.
_________________________________________________________________________________
Footnote. T5 according to Rand: Track out to the short stretch of corner entry alligator teeth at your left. Brake moderately hard. Turn your head to the right and stop when you see the beginning alligator teeth at the top of the hill at the T5 apex. Aim the car there, don't be late in turn in. Accelerate at the apex and begin to unwind the wheel (Don't hold it in or a spin is likely)