Savannah National
March 4, 2007
After wounding my good engine while learning to shift "backwards" last season, I sent it off to George Dean for rehab. I got it back in time to make Kershaw, but once again a sorry weather forecast allowed me to stay home and be warm and dry. My George engine would be a bit conservative, with George allowing for more error (like more valve clearances) for missing shifts.
The Spring (well, almost) trip to Savannah's Roebling Road has become a tradition in my household. Kathy enjoys the shopping and the many good restaurants. The sportsracer clan has been gathering there for years and it is good to see everyone after a winter's nap. Sean would be making the trek with a unique mission. He would be the trail boss of the move of his new 1999 Van Diemen from Miami to Michigan. The seller arranged transport to Savannah to Sean. Sean arranged transport with the Michigan-based St. Clair team, which would be racing at Roebling, for the car to go to Michigan where it will be converted to a motorcycle powered FB car. (It all actually happened without much drama.)
Well what's new with the racing toy for the season? Other than a fixed engine, not much. I did cobble up some crude tunnels knowing full well that they wouldn't be very effective, since there is way too much Cheetah in the way of air flow. End of improvements. I didn't even apply a fresh coat of wax. I continue to refine my very casual approach to racing.
Kathy and I drove down on Friday, arriving just before the end of practice day. The highlight of the trip down was the discovery of the Squat and Gobble restaurant in South Carolina. NO kidding, Squat and Gobble. Kathy was not interested in seeing what it was like. Roebling. We found Hasty and parked the trailer. Hasty had a couple of nasty problems during the day and didn't get many laps at speed. Sean and Eric Cruz (FE) would arrive within an hour or two. Unloaded the racecar and took it over for its annual tech. Should have been easy, right? Well the little snit would hardly run. It ran beautifully at home. Turned out the on-board battery had mostly died. Batteries just don't like to be ignored all winter. Went to AutoZone and helped the local economy.
Being the last race group (7th), we sportsracers didn't get out on the track until nearly noon on Saturday for the practice session. The weather was moderate and sunny, and passing the time was easy as we visited around a bit. Tom Robertson and Rodger Cook were nearby with their new Pat Prince-built cars. Nice pieces that are essentially slightly scaled down versions of the monocoque Carbir S2 chassis. Ben Johnston was there and had put hot shoe Cole Morgan in his Johnson SR1. Jean Luc Liverato in his new Stohr WF1 had the pits a buzz with his practice day times. Oh yea, I would be running last season's R35 tires. (Ok, I had intended to buy some R25's, but the Hoosier guys were already out by Friday afternoon.)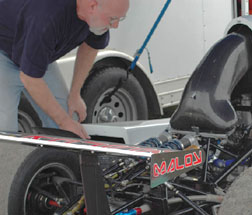 The practice session went without a hitch. Car felt fine and no one was passing me. My AIM dash informed me that I was consistently running laps at the 1:10.1 range. (Best lap last year, before the repaving was 1:10.9; most were 1:11's) Ran about 10 laps and came in, saving (ha, ha) my tires. (I really wanted to take a look at the chain since it was new and they loosen up a lot at first.) Hasty had a radiator come apart at the seams during the session and likely cooked his motor. He would be heading home. Always cheerful Hasty was almost grumpy.
For the late afternoon qualifying session, we put in my spiffy BPD ECU (got it with the car, would have never spent $1800 for it). It would not work with the flagging battery voltage, but we had a new battery now. Engine idled nicely and better than with the stock ECU. As the qualifier began, I knew I had problems. The engine would not run over 7000 rpms. I drove around, pitted and sent Sean off to get the stock ECU and tools. He managed to toast his thumb a bit on the exhaust plus rip his jeans (along with some skin) on the chain link fence he almost cleared as he ran back to the trailer. Now Sean is a bit grumpy. I made it to the track quite a few laps into the session. Car ran fine. I was trying I thought, but laps of 1:12 kept showing up on my dash. There were two standing yellows for car into tire piles. I am just not comfortable going full tilt in those areas. I came in sure that I would be near last of a fairly competitive, 13 car DSR field. (Turns out that Craig Stafford has having a worse time in the Gloria car. It was just too small for him and they were having continuing throttle cable problems. He did even make the qualifying session. Also gone by then were 4 other DSR's).
We threw the cover over the car and went to dinner. The dinner group numbered 15 or so, but Churchill's Pub was up to it. Food as usual was excellent.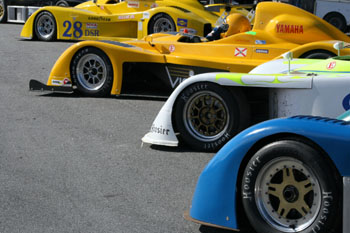 Sunday. Passing as always on morning warm-ups, meant that we had lots of time until our race which would be at around 4 PM. Temperature was around 50 and the wind was fierce. We spent a lot of time sitting in the tow vehicle. We watched Eric's race (group 2). I had plenty of time to add a few gallons of gas and to check the chain tension. I would be gridded 10th in the CSR/DSR race. (Race officials have become inflicted with my race casually disease and never got around to posting our qualifying times.). Just ahead of me on the grid were two very similar looking yellow cars; Juan Montalvo and new guy Gary Crook in a Stohr WF1.
Pace lap had some adventure. Rodger Cook spun out in turn 5. (rock lodged in caliper). As the field rounded turn 9, I heard Kathy key the radio. Suddenly, everybody in front of me took off. Big Time. I nailed the gas also. (figured I had missed the GREEN, GREEN, GREEN call). Au Contraire. Everybody was hard on the brakes. Me too, but was able to nail it quickly again as Kathy's call came over the radio. The start by and large worked for me as I passed a couple cars including one of the yellow DSR's. The other yellow DSR, damn him, was running away quickly. Jacek was having a problem with his CSR cutting out in turns 2 and some others. He and Kevin Allen got together and caused me to lose lots of momentum. (Jacek would run the entire race becoming alternatively a rocket or a road block. I must have passed him 5 times only to have him zoom by later.....) A lap or two later, I would get caught up with Jacek and another car in Turn 2 and the yellow DSR behind me almost caught up.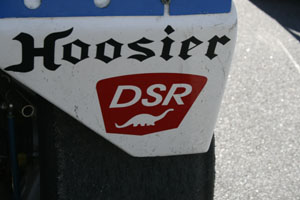 I could see the yellow car maybe 200 yards ahead. I don't know which one it is, but later found out it was Gary Crook in the Stohr. I am making up time very slowly at first, but I am making up time. Motivation. I am pedaling hard. The gap begins to shrink more quickly. Maybe his tires are going off? As I close to his tail in Turn 5, he goes wide and I easily drive past. Hell, I was looking forward to some hand to hand combat. A couple of laps later, I see him in the tire wall at Turn 9. On the last lap, out of nowhere seemingly, I get passed by Kevin Allen . Boy, is he fast. He had been in the pits early to get a tire rub taken care of. I finish 3rd. Cool. Best old DSR.